for IT, Mobility & Telecom Departments.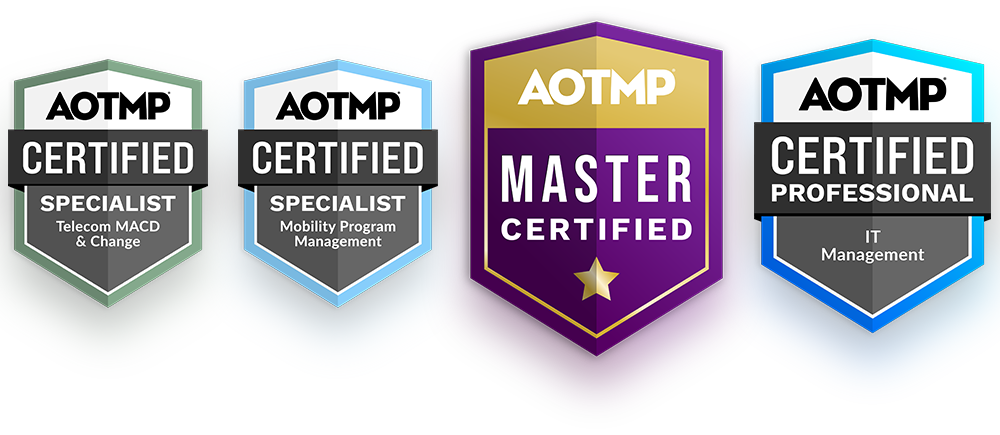 Efficiency First®
Framework
Certifications take professional achievement to the next level by validating knowledge, skills, and best-practice execution. It's why companies across the globe trust AOTMP® with training their people – from the front lines to the board room.
We help you install a best practice framework across the organization.
3 Professional Certification Bundles
Includes digital edition of Efficiency First® Framework Guidebook + Exam
Professional Certifications verify best practice knowledge of the Efficiency First® Framework and understanding of how to apply Framework principles in a telecom, mobility, or IT management practice.
14 Specialty Certification Bundles
Specialty Certifications teach and verify best practice knowledge of specific telecom, mobility, and IT management practices.

Each bundle includes 5 to 8 AOTMP® University Courses and a Specialty Certification Exam.
Master Certification Bundle
Includes digital edition of Efficiency First® Framework Guidebook + Exam
AOTMP® Master Certification verifies candidates understand Efficiency First® Framework best practices and Center of Excellence principles and they can apply this knowledge to build and maintain and Center of Excellence (CoE). AOTMP® Master Certified professionals have a comprehensive understanding of each stage of Efficiency First® Framework adoption and how to navigate and implement requirements in each stage.
Trusted content, timely best practices.
Our online courses deliver world class training to rapidly increase knowledge, skills and time-to-proficiency for telecom, mobility, and IT management professionals.
Each course contains learning checks to guide knowledge retention and an end-of-course quiz confirms objectives have been learned.
AOTMP® University has been a positive experience for all team members, including those more tenured. The great part about the TEM space is we learn something new regularly. If there is a topic someone wants to explore deeply, AOTMP® offers classes and certifications to support continuous growth and learning. More specifically, Dell recently expanded our India team, and the portal served as great tool to teach the TEM discipline to individuals who have had little to no telecom experience. We also had a team member rotate from a TEM Analyst role to Circuit Provisioning, and she focused on certifications and classes to assist with the transition.
The courses are very helpful. I went through our Centurylink summary bill and found a lot of old lines that were never disconnected and are no longer used, saving the company some money.
I am thrilled that I have had the opportunity to learn from the AOTMP® University. I thought I knew quite a bit about Telecom Billing until I was given the chance to take classes.
Not sure what is right for you?
We're here to help!